As a frugal lady, I'm always looking to save. Unfortunately, if like me, you wear contact lenses to see clearly, the expenses add up.
That's because high street retailers sell disposable lenses at high prices, especially if they are linked to a monthly scheme that includes lenses, solution and aftercare appointments.
Well frugal ladies, it's time to wise-up and stop paying more than necessary for your lenses! Buying from an online retailer is far more affordable, while retaining the same quality (or even getting the exact same lenses).
Take a look at 5 ways you can save money by buying contact lenses online.
1) High quality at lower cost
There's just no denying it: buying contact lenses online slashes costs significantly. Over time, you could save £100s by buying your contact lenses online.
In today's day and age of online shopping, high street retailers can't compete against the prices of online brands.
So why are online retailers able to sell the same great quality contact lenses for less? It all comes down to expenses and upkeep. Brick-and-mortar stores are expensive to maintain, whereas online stores are able to avoid those costs. Those savings come right back to you.
There's another great benefit to buying online: there are a wider variety of contact lenses and brands available at your fingertips, and the prices could depend on the quantity you purchase. Bulk-buying contact lenses can add up to even bigger savings.
Here's a great example. Let's take a look at a popular contact lens from Vision Direct. It's one of my go-to retailers for contact lens – they have great store and product reviews.

I've been using Dailies AquaComfort Plus for years: they're really comfortable and provide full clarity throughout the day. Before buying online, I used to pay a whopping £35 per box of 30 lenses from my optician.
Since I switched to Vision Direct, I pay only £25.98, a saving of about 25%!
Bonus tip: Some high street opticians prescribe their own brand lenses, but they are actually just repackaged versions of popular contact lenses. If you decode the real name of the lenses, you can buy the exact same pair online for much cheaper. Check out a handy chart here.
2) Using voucher codes
Voucher codes offer discounts that can only be found online. This is a significant benefit because it makes for constant extra savings.
Here are a few strategies to find vouchers and save on your next purchase:
Look for first order discounts


.


Online retailers often offer new customers a discount. Vision Direct offers 10% off your 1st order. All you have to do is enter the coupon code SURPRISE at basket and the discount will be applied. Super easy!

.

Join the mailing list


.


If the first order discount is no longer relevant to you, you can still catch some great discounts and codes. Subscribe to the mailing list to receive gifts, product discounts and offers.


.

Follow on social media


.


Often, online lens stores will surprise their followers with new codes for discounts or great sales. Follow on Facebook, Twitter and/or Instagram, and make sure to turn on notifications. That way, you won't miss the discount codes!


.




.

Surprise basket discounts


.


It's always a pleasant surprise to get a pop-up deal like the one below. This one was a gift from Vision Direct when I was about to proceed with my purchase. Buy a set of sunglasses for £4.99 and get £10 off your next purchase. So basically, it's equivalent to free sunglasses + £5 off from your next lenses. Good deal!


.

Giveaways


.


If you're lucky, you could win a giveaway for store credit. Facebook is a popular channel for giveaways, so make sure to follow your favourite brand!


.


Here's a great example of a recent giveaway for £50 store credit, enough to (almost) buy 60 pairs of lenses for free!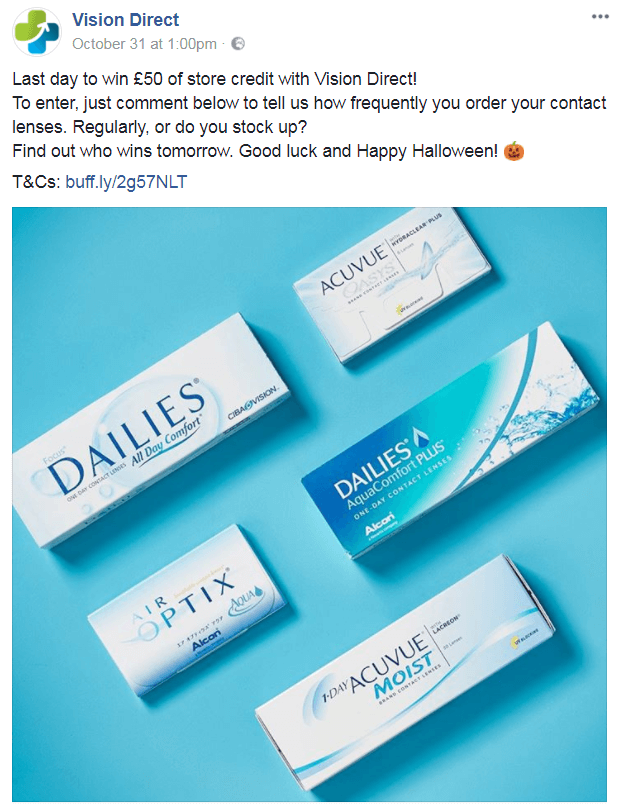 3) Free postage & next day delivery
We're all busy people and time is money (if not money, then at least well-deserve rest).
Heading out to buy contact lenses takes time and money, particularly if you're driving or taking public transportation.
We also have to schedule the errand based on the location's office hours, which often coincide with business hours. For some of us, that may mean having to request a different shift or leaving work early.
Not so when buying online – you rummage and purchase at your convenience, whenever you want, and the store is available 24-7. There is even chat assistance available if you need any guidance.
You can even find online lens retailers that provide the extra privilege of FREE postage past a certain purchase value and in some cases (if your online seller rocks), next-day delivery.
So your lenses are hand-delivered to you at home and all you had to do was click on the mouse a few times.
4) Refer-a-friend specials
This is another super-cool feature that some online lens retailers offer.
If you enjoy the service and the quality of the products, you can actually end up saving money by recommending the site to friends.
For example, Vision Direct offers £5 store credit for every friend you refer who makes a purchase over £30 on their first order. Plus, they will automatically apply a 10% discount on your friend's order, so you both benefit!
All you have to do is share a unique code with your friends or family by email, chat or even on your Facebook status. If any friend completes a purchase, pow, you got automatic savings.
5) Great return policy
Perhaps your prescription changed and your lenses are no longer a proper fit. Or maybe, you have buyer's remorse from a bulk buy – it happens to us all.
High street opticians simply cannot compete with the superb return and cancellation policy offered by online lens stores.
From 100-day guarantee on all products to refunds if your prescription changes, there's a comfortable safety net for online buys.
That means that your money is safe to be returned, and that can save you hundreds of pounds if there's an issue with the contact lens.

So it's settled: buying contact lenses online IS cheaper. As frugal ladies, we're always looking for ways to save money and make smart purchases, so we'll be buying our lenses online!
Don't forget: Vision Direct is offering 10% off your first order with the code SURPRISE (plus free postage if your purchase is over £49), so make sure to check out their site and rack up the savings!
How do you purchase your contact lenses and glasses?
This post is written in collaboration with Vision Direct. All opinions are my own. Thanks to Freepik for the featured image.