With the holiday season fast approaching, most of us are scrambling to get our suitcases packed for some foreign destination to escape the cold (at least I know I am!) Travelling abroad is one of my absolute favourite things to do, but I know that if I don't do my homework it can turn into a very costly adventure. Over the years I've learnt some tips and tricks to avoid blowing my budget.
Do your homework
As I mentioned previously, one of the most important things to do before travelling abroad is to do your homework! There are so many little things that can be done before you make your way to the airport that can really get your savings going from the get go!  Don't rush to buy your flight tickets but make sure you leave enough time before buying your ticket and flying to avoid paying the crazy 'last minute' airfares. (Check out Ronnie's post on scoring cheaper flights). Also be aware that many websites do not include the taxes and extra fees in the initial advertised price – so don't get a shock when all of a sudden the price jumps as you take your credit card out to pay! Airlines are also becoming much stricter in terms of baggage allowance – I remember when I used to get away with bringing an extra 3/4 kilos in my luggage, but recently I've noticed that that leniency is no more!
Don't exchange money at the airport
This is one I've been guilty of too many times! With such busy lives, it's easy to leave tasks like this to be done at the airport right before the flight. But the moment I found out that I was paying 10% more by exchanging money at the airport, I knew I could never continue! Make sure to set aside the time to sort out your money at least a week before your flight to avoid added stress. There are even some providers that offer last minute currency online that will be delivered to your doorstep! Now there really are no excuses!
Be clever with travel insurance
Too many people just accept the first price for travel insurance given to them by their travel agent. Never accept the prices straight away! Shop around and do your research – if after you've gathered all the information and the travel agent's price is indeed the cheapest option then go for it! Also if you go away multiple times a year (or if you're planning to go to multiple destinations) then multi trip travel insurance can end up saving you  some hard earned cash.
Take advantage of free apps
One genius new app I've discovered is the 'Navfree' app. I always used to get so disappointed when I'd get my phone bill after an overseas trip due to crazily expensive data roaming. But the Navfree turns any smartphone into a satellite navigation device with maps, voice prompts and route planning! The best thing about it is that once it's downloaded you won't need to use any internet data to find routes and maps. It can be a huge lifesaver when you're lost overseas!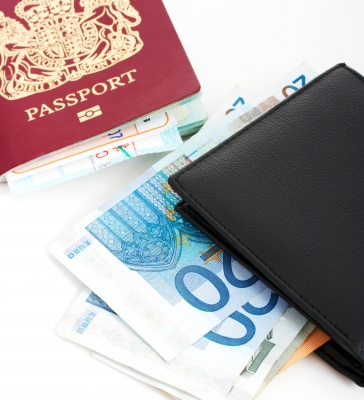 Those are just a few of my budget travel tips to get you started – how do you make sure you don't spend too much when travelling?