Many families happily celebrated Father's Day this past Sunday. Update after update, my Facebook news feed brought me a collage of photos of new fathers, fathers from the 80s, grandfathers, and even fathers-to-be. I saw some families went out to a ball game (which is 'baseball' for Americans), others went out to brunch or dinner, and some enjoyed a good day at the park. In my own family, my brother and I joined wallets and money power and treated our dad to a deep tissue massage. But, all the activities and gifts got me thinking:
What are the best budget-friendly Father's Day presents?
To recap the day and provide a useful list for all Father's Day gifts for years to come, we've done our research for you. Here are our top 5 picks from around the web:
5. Book Club – Choosing a Book to Read Together
Some friends turned to Amazon or Barnes & Nobles to comb through the Best Sellers or find the perfect genre book for dad. I think this is one of the best gifts – and it can get even better. Instead of buying a single book for your father, why not get another copy and share in the reading experience. Now you have another thing to "catch up" on together – and it's also a great way to bond and learn more about each other.
4. Home Movies Night – A Trip Down Memory Lane
Speaking of bonding, I can't think of anything better than a bucket of popcorn and sitting back together to share in a wave of nostalgia. If you're family is anything like mine, you likely have a closet full of family VHS tapes. For Father's Day, why not bring your collection into the digital age and convert them into CD's. Consider making a "highlight" reel and present it as your dad's Father's Day Gift.
3. Day of Mini Golf – Light Fun With Dad
If your father is a golfer, but you don't necessarily share in his passion, why not meet him halfway and go for a light-hearted game of mini golf? I noticed a few blogs that brought up this idea and I think it deserves on our Top 5 Father's Day Gift list. Most rates for mini golf are somewhere around a mere $10 / adult, which seems like a worthy gift and Father's Day activity to me! It's sure to bring out the kid in both of you – and a healthy dose of friendly competitiveness.
2. The Toast That Keeps on Giving – Beer of the Month Club
Although it is the most expensive item on our list, ($30.95 – $42.95, greatclubs.com), it is the gift that keeps on giving! If your dad appreciates a good beer, this is the perfect gift for him. Every month, he'll get four different varieties of American microbrews delivered directly at his door. If wine, cigars, or even pizza is more his style, no need to fret. You can find another 'Monthly Club' gift that is a better match.
1. Best Father's Day Card Ever!
Making our #1 spot – especially for new(ish) dads – is the most creative (and delicious) card we've discovered during our internet search! Best of all, it is easy to do, from the heart, and will feed any father's sweet tooth! This is a fun, smart, and creative activity with the kids and something they all will appreciate in the end.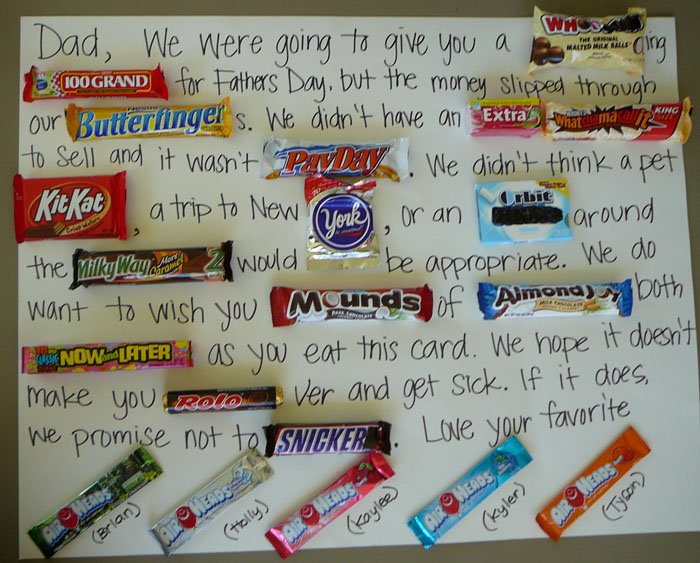 What did you give or get for Father's Day this year? Any other great ideas to add to the list?