I just returned back from a fabulous (much needed) holiday in Greece! I was always under the impression that Greece was not exactly a budget friendly place for a holiday – but after doing a lot of research, I found out that if you stay away from the more 'commercial' islands (Santorini, Mykonos and Ios) you can find many other stunning, budget friendly islands in Greece. We personally chose a tiny island called 'Lefkada' for our week long trip.
About the island
Lefkada is one of the Greek Islands on the west coast of Greece. It's connected to the mainland by a floating bridge, so you can take a ferry or drive from Athens airport (which is what we decided to.) We hired a car and drove for about 6 hours until we arrived at the small island. The last hour of the drive is up in the mountains and the road itself is very high up and windy, so if that's a problem for you, I'd recommend taking the ferry! Lekfada itself is about 35 kilometres from top to bottom, so I'd really recommend renting a car so you can see everything on the island (we got a great deal for the car through our travel agent!) The main villages of the Island are Vassiliki (where we stayed,) Nidri (which is the largest and most 'touristy' village) and Lefkada town. Vassiliki is famous for its windsurfing, and is a gorgeous, small beach town. After driving around all of Lefkada, Vassiliki was definitely my favourite area!
Attractions
If you're looking for lots of things to see and do on your trip, then maybe Lefkada isn't for you. It is essentially an island you can go to disconnect and for some R and R. Lefkada is home to some of the best beaches in the world. We visited Porto Katsiki beach, Egremni beach and Agiofili beach which were definitely the most beautiful beaches I had ever seen in my life! All were about a 20/30 minute drive from Vassiliki. To get down to Egremni beach, you needed to go down 300 steps so the way up again was a massive workout! All beaches have free parking and we made sure to go to the supermarket before to stock up on lots of water and snacks to avoid the high kiosk prices at the beach.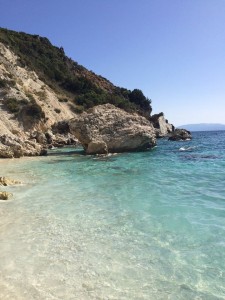 Food
The food was definitely one of the highlights of the trip. It was very cheap so we managed to eat like kings for the whole week! Lefkada is filled with fishing villages so most restaurants are 'tavernas' which serve incredible fresh fish as well as meat for a fraction of the price back home. I think I ate fresh calamari at least once a day for the whole trip – what a treat! We also went to an incredible restaurant called Rachi where you have dinner in the clouds, watching the sunset!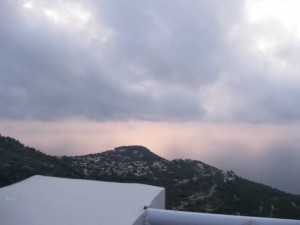 Accommodation
Lefkada is filled with budget friendly accommodation options. There are many BNB's, hostels and hotels for every budget. We chose to stay at a small hotel called "Enodia" in Vassiliki which was an incredible choice! The prices were night were extremely reasonable for what we got, and the service was exceptional from the moment we walked in. We really felt at home!
Overall if you're looking for a wonderful, budget friendly trip then look no further than Lefkada! I couldn't recommend it highly enough!