If you have recently made the decision to move, you need to start planning well in advance.
Your list of things to do will probably begin with the hunt for a moving company—one of the most important tasks when you are preparing to relocate to a new house.
Moving house represents a big investment, so it is natural to want to save as much money as possible. The key is finding the right moving company suited to your needs, budget, and situation.
Here are 6 steps you should take when looking for the right moving company to hire.
Take stock of your situation
First things first, walk around your house and take note of the things that you want to transport:
How many items do you have?
Do you have extremely large or heavy furniture?
Do you have fragile pieces or antiques?
Assess whether you are capable of transferring all your items on your own or need the help of a moving company.
If you have a small amount of items, you might find that hired assistance is not worth it and that it is possible to complete the job by yourself. For anything more, professional movers are necessary.
Source: Freepik
Ask around for recommendations
Now that you have determined that you need a moving company, start asking for recommendations from your friends and family.
This is a great way to narrow down the multitude of moving company options.
While asking for recommendations from people you know can turn up amazing accounts of movers, there are also horror stories, so filter the good from the bad.
Understand what drives costs
Learn about the factors that affect prices so that you can identify opportunities to save money.
For example, the total volume of items plays an influential role in determining costs, so you should take time to get rid of the clutter.
Also, there are cheaper alternatives to purchasing dedicated packing materials—look for free boxes from friends, family, and local stores and use old linens or newspapers as packing paper.
Knowing these cost factors gives you a better idea of a reasonable estimate for a moving company.
Depending on the services you require and the flexibility of your move, you can significantly reduce the price of professional movers.
Online reviews
In addition to personal recommendations, read the reviews of potential moving companies.
The ease of access and abundance of information online makes your hunt for reliable movers much easier.
After reading reviews, take it one step further and look at their websites, particularly their "about us" section to get a feel for how each company works as a whole.
Also, try to look at their facilities and equipment to ensure that they are capable and in good condition.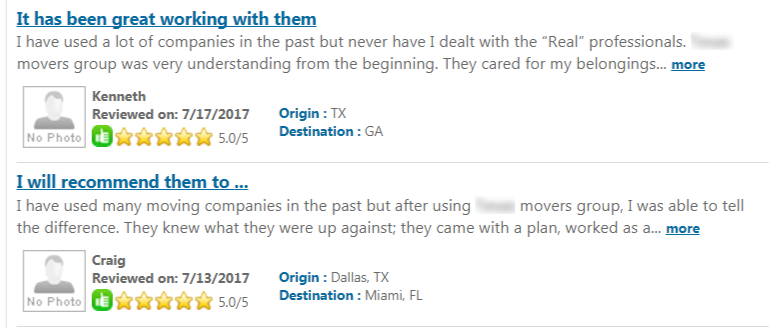 Ask the hard-hitting questions
Don't be afraid to ask a lot of difficult questions. These movers will be handling your prized possessions so you want to make sure that they are capable and reliable.
A dependable moving company should be happy to answer all your uncertainties and not hide any information.
Be thorough and ask any questions you may have. A few examples are:
How long have they been in business?
Do their movers have specialized training?
Are they members of any trade organizations?
What special equipment or techniques will be employed in the move?
Are they able to provide a comprehensive moving day schedule?
Does the quote include insurance coverage?
Is their quoted price the final price?
Compare companies' quotes
Another thing you should do to further narrow down moving companies is to compare their services and prices. After compiling a list of a few movers, it may be difficult to really differentiate between them.
This is the time to dive deep into the details and examine the offered services and how they calculate their prices.
Being able to see these details side-by-side is incredibly useful—you can see which companies truly match your needs.
***************
These are 6 crucial steps to finding the right moving company.
With these steps, you will be able to save money by matching your specific moving situation and budget with the services of the best moving company.
Thanks to Freepik for the featured image