As you know, our #FrugalSuccess Story section is meant to shine a spotlight on average everyday people around the world who have dug their way out of debt, managed to save large sums of money, or have found smart ways to earn cash. From overcoming massive student debt to opening up a bakery business, we've now read dozens of stories to teach and inspire us towards becoming our own #FrugalSuccesses.
However, with Thanksgiving and the holidays quickly approaching, I started to hone in on the word, 'success.' After all, why do we work so hard towards our budgeting and frugal lifestyle? What does the money give us? Is it a sense of freedom? The ability to spend more time with our loved ones? The chance to pursue our passions without fear? Today I want to showcase a fellow personal finance blogger who has recently made the decision to quit her full-time and stable job, which certainly sounds risky to many of us! However, I'll talk about what brought her to this point, what we can learn about her journey, and how we can achieve our own dreams. I'm pleased to bring you Holly Johnson's story, from her well-known blog, Club Thrifty.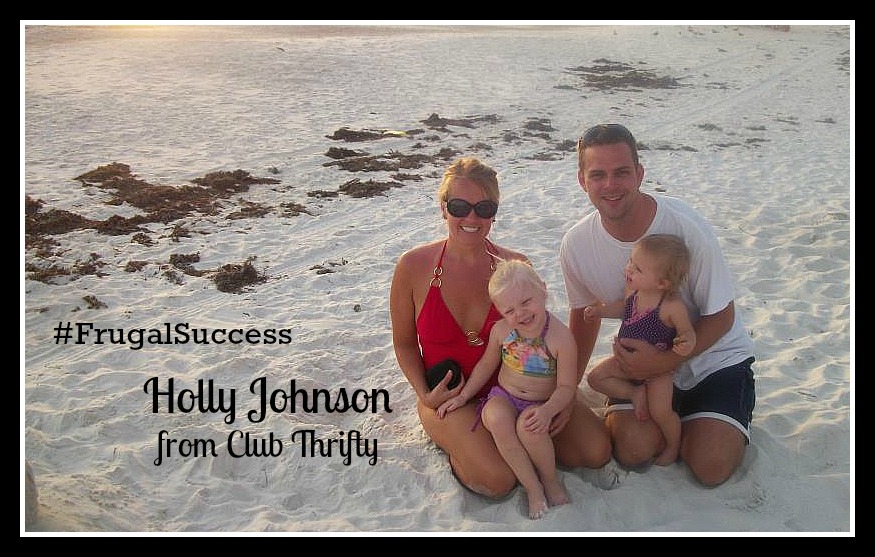 Quitting Your Job Can (Ironically) Lead to Success
In Holly's "confessional" about quitting her job, she cites a few main reasons why she decided to take the plunge in the first place:
The children! Holly and her husband, Greg, have two small kids and with their full-time jobs + extra side work, they were each devoting 70+ hours a week towards "work." Family time was getting strained and Holly and Greg were often exhausted after all the long work hours.
"I started feeling like more of a machine than a human being." Because Holly's crazy work schedule, she always felt like she was in a big hurry to get everything else done. From grocery shopping to paying bills, everything was a task to check off. Instead of enjoying life, she was just rushing past it.
Holly's 9-5 job seemed more like "trading money for time" and once she was able to make enough through her blog and freelance jobs, the trade no longer made sense.
Holly's Hard Work Pays Off
Deciding to quit a stable job that provides not only a steady salary – but also a 401k match program, income insurance protection, and a smartphone – is not a decision anyone should take lightly. So how did Holly get to a point where she could walk away with confidence?
First off, her husband remains gainfully employed full-time, which of course is a major relief for any family. But with 2 children, Holly really needed to "hustle" in order justify quitting her job. In May of 2012 (about a year before she quit), Holly and Greg started their blog, Club Thrifty. Besides generating real income from the blog, their blogging led Holly to other part-time job opportunities. In addition to the blog, Holly currently writes for Get Rich Slowly as well as Onlinecolleges.com and other companies. Getting featured in Forbes, Fox Business, and Lifehacker has surely helped build her reputation in personal finance and establish her as a professional writer. Between freelance writing, consulting, and advertising, Holly is a busy bee and she can bring in solid monthly amount. If you want more details about her various "hustles" and revenue streams, be sure to check out her monthly income and blog updates.
You Can Be a WAHM (or whatever you want) too!
Club Thrifty's motto is to "stop spending and start living." I think too often, we get caught up in the numbers game and lose sight of the big reasons why we are frugal ladies to begin with! Today's #FrugalSuccess story is a reminder that all our hard work is so we can live the life we want to lead. If you're saving up for your next vacation or looking to buy a home, strict budgeting and extra work on the side can help you achieve those goals. But, if you find that you're making tremendous sacrifices and missing out on life in the process, take a pause and think about how you can readjust your game plan – or even your priorities. Finding the right balance is always tricky, but when you find it, I hope you'll have the courage enough to see it through.