Using Technology & Creativity To Save Money on Your Wedding
Everyone is well aware of the inflated costs associated with adding the term, "wedding" to anything. Looking for a cake for your party? No problem. Looking for a "wedding" cake? That will cost you an extra $10 per slice! Many of us come out of our engagement proposals with a big dream wedding vision, but our budgets (or our parents' budgets) bring us back down to reality. However, you can still have a dreamlike wedding and here are some effective and creative tips to save you money!
Technology is On Your Side
Who would have thought "technology" could be your best tool when planning your wedding on a budget?! These days, you don't need to hire a wedding planner as there are plenty of online programs and resources you can use at your fingertips.
Oded and I recently got married at the end of April, and we used an amazing organizing tool called "iPlan" to help us organize our lists, guest information, seating arrangements, and more! This program also worked hand-in-hand with our wedding venue to print the table numbers for guests when they arrived. It was a streamlined, easy, and FREE process! It also allows you to keep track of your progress, so you know how much you've done, what is left, and how quickly you need to accomplish the other items.
There are other similar programs out there, like Moposa, if you want to try out a few different styles / forms. I didn't use this one, but it has a section where you can even keep track of your budget and appointments. So, clearly, you can get everything done on your own with this virtual wedding organizer.
Recently, many of my friends have been creating wedding websites to tell their love story, give important and up to date information to guests, and include links to their wedding registry and other useful places. This is awesome, but not always free. There are so many resources for getting your wedding site started, but some of the most popular FREE choices include The Knot, eWedding's free package, and Wedding JoJo.
Time to Get Creative!
I've seen different numbers quoted, but the average couple seems to spend around $600 on wedding invitations, and I'm sure many spend upwards of $2,000 and $3,000 even. When we went invitation shopping with my parents, I was shocked to get quotes of $900 and $1500 for 100 prints.
You CAN make your own wedding invitations. I repeat, You CAN do it! If you are really against taking this arts & crafts route, then you can at least consider doing the Save the Date and/or Thank You Cards on your own. There are so many amazing resources and templates online to make your life easier.
Oded and I made a quick card in Photoshop by choosing one of our favorite photos of us and playing around with the filters. Granted, Oded is much more advanced in Photoshop than myself, but it can't be too hard to learn – and it's a great activity to do together. More and more couples are starting to even electronically send out their Save the Date cards. You can use Evite and other online tools to use or modify pre-made templates and send them out to your guests via email. It's really quite simple and will save you the money of printing and mailing out the cards, allowing you to use that money towards other areas of your wedding.
When it comes to the invitations, shop around on and offline to see what you like. As you may already know, letterpress printing can be a fortune! If this is something you can forgo, I recommend using digital color printing. This can bring down the total cost by hundreds.
You can also go the DIY route as there are so many online resources, including wedding blogs, on how to make the invitations on your own. Oded and I made a passport-styled invitation for our guests coming from out-of-the-country. When we came up the idea, we of course thought it was unique and brilliant – but then we went on Google search images and found that this has already been done many times before. On one level, it was disappointing to not have been as "original" as we had thought. However, on another level, it was extremely helpful to have had the way paved before us. We were able to take the various ideas from different blogs and wedding sites and produce our own invitations with greater ease.
Explore Your Wedding Dress Options
I know there are girls out there who have a specific dress or designer in mind for their big day. For some, spending thousands on the wedding dress is a necessity and something they won't give up. However, if you're flexible, open-minded, and love to travel ☺ you may want to try out what I did.
Oded and I love to travel and we had planned a 5 month trip around parts of the East before he proposed to me. At first, I thought this may have been an impractical move, but in the end it was the best set-up! Besides having the time of our lives, I also brought back a one-of-a-kind wedding dress from Hoi An, Vietnam. It wasn't my intention, but after doing some research on this famous town known for its abundance of tailor shops, I decided to give it a try. With only 2 photos of a wedding dress I loved and some newly acquired bargaining skills, we finally settled on one shop to make my dress. After taking measurements, the dress was done in 2 days, including another fitting to making some small adjustments. For $150 I had a completely customized wedding dress.
While it wasn't perfect, at $150, I was able to make some further changes when I got back home. Those adjustments cost around $100 (including my veil), so I was happy bride-to-be with a $250 wedding dress. And look at the result …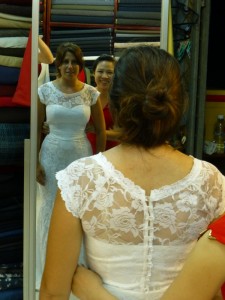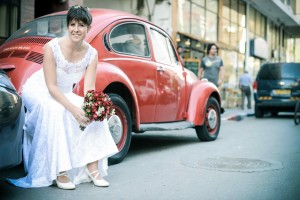 So, what's my point? You don't need to stick to the traditional, and typically more expensive, wedding preparations route. With a little bit of creativity, courage, and some computer time, you can cut down your costs – and enjoy yourself in the process!