There's an easy and affordable way to make your walls look amazing: murals! These easy stick-on images can make your room look anything from colorful to elegant to inspirational. I have one myself and I really enjoy what it's done for my bedroom.
If you're looking to tone up the look of your room, check out the great offers from Magic Murals. They have a vast variety of colors, designs and options (including murals that can be colored in by your kids, or whiteboard for your office). You can even make your own personalized mural with your family's photos!
They also have a spring promotion upcoming.. Just use the coupon code: FRESH10 and presto! 10% savings + free shipping. (Until April 10) Their panoramic murals are also going for $39+free shipping.
Check out their site and enjoy the new look on your walls!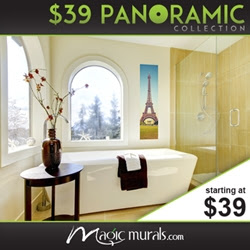 This post was created in partnership with eAccountable. All opinions are my own.