Wedding planning is underway! Now that the event hall and date are set, we're getting busy with upcoming wedding tasks.
The next step? Wedding invitations, of course!
Wedding stationary is very important to us. It may seem like the light part of wedding planning, but it's anything but – after all, it provides the first impression of the wedding.
Our guests will gain an understanding of our wedding theme and what they can expect from the wedding, just from the invitation.
I've scoured the net to find the perfect wedding invitations and lo and behold, I found them!
In comes Basic Invite, which offers beautiful wedding invitations that are easy to put together online. Surprisingly, there's nothing basic about it. 🙂

Their designs are some of the most beautiful wedding invitations I've ever seen, and they offer such a wide variety of options that you can find the design that best suits your upcoming wedding's theme.
Basic Invite offers a lot more than just the wedding invites – you can get all the necessary enclosure cards like RSVP cards, hotel arrangement cards, gift registry and ceremony information.
Plus, you can design the Save the Dates, menus, place cards, bridal shower invites and the wedding programs – all in one easy place and following the same theme you pick out.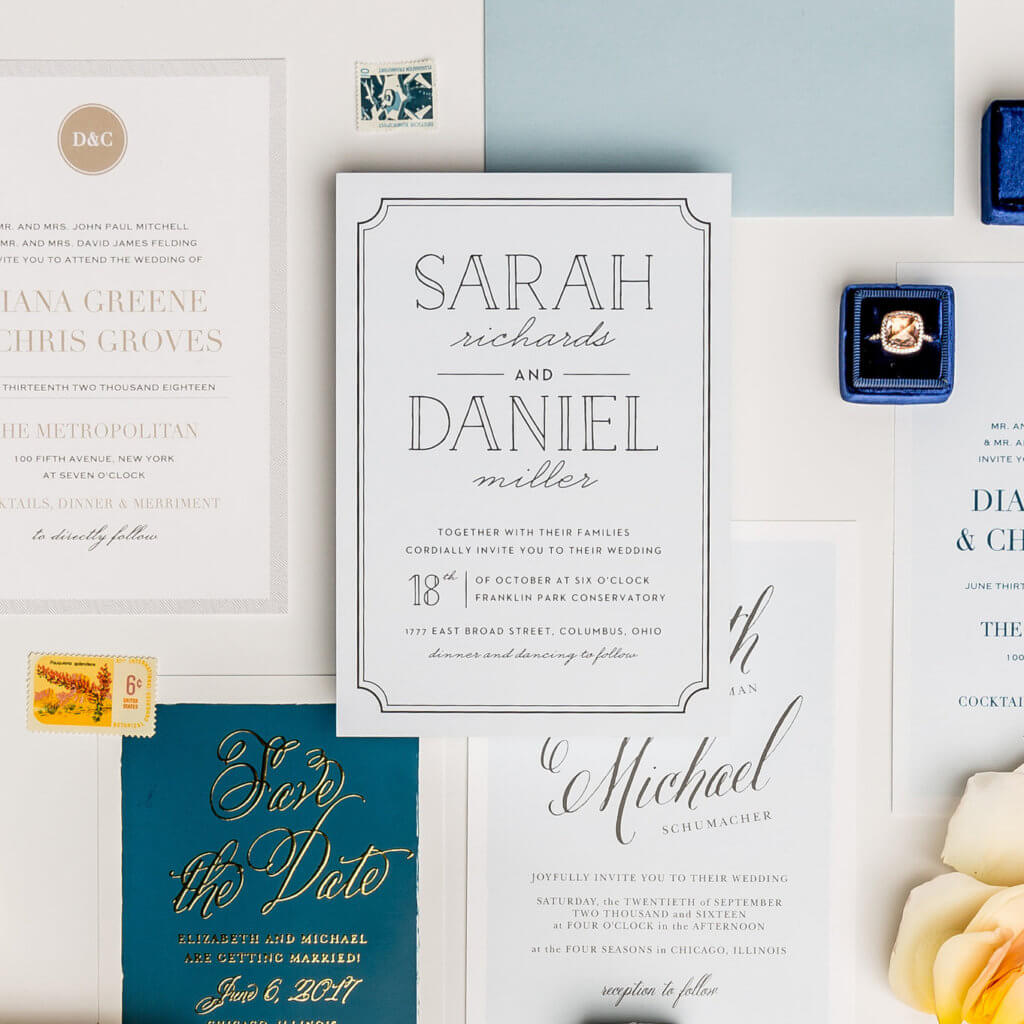 It's all about customization
When it comes to designs – there are HUNDREDS available (almost a whopping one thousand). All of the designs are created by professional graphic designers and suitable to a wide variety of wedding themes and colors.
Once you pick a design, you can easily personalize the colors of every part of the invitation, from the front, the back and even the envelope. Pick a foil type, a paper type, and even a card shape. The preview will apply the changes as you make them.
If you're a fan of foiled ink, they even offer foil stamp wedding invitations with gorgeous shades of shiny foil that make the invitation that more elegant (I love shiny typography).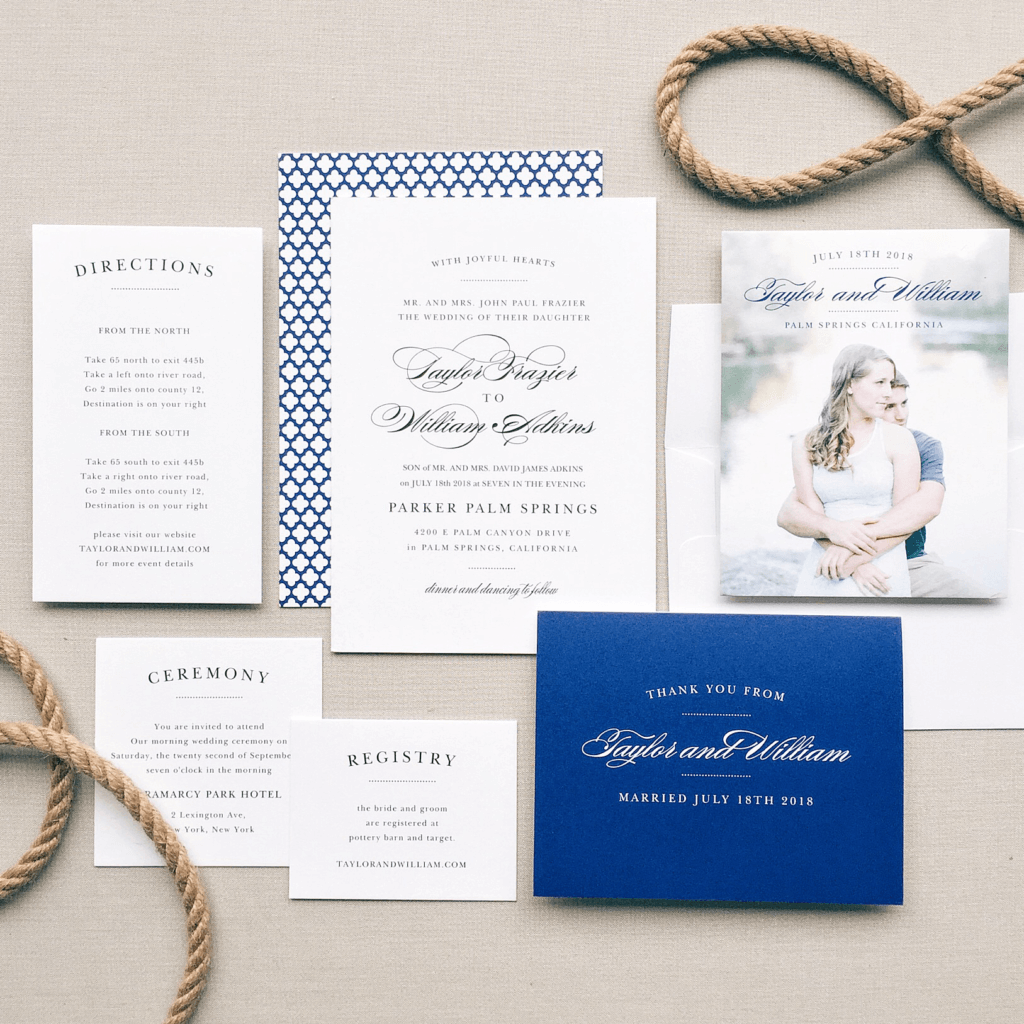 Of course, you can also personalize the text including the font, size and alignment. Basically, you're free to create your own personalized invitation the way you want it.
One of my favorite options is the personalizing of the envelope liner – how chic is that? You can even place your photo there to add a little surprise peek-a-boo for guests!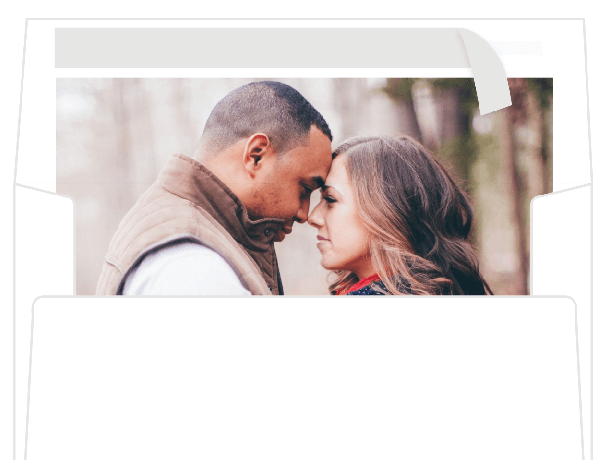 Add a pocket to keep all your cards tidy – and just like that, you have the perfect wedding invitation.❤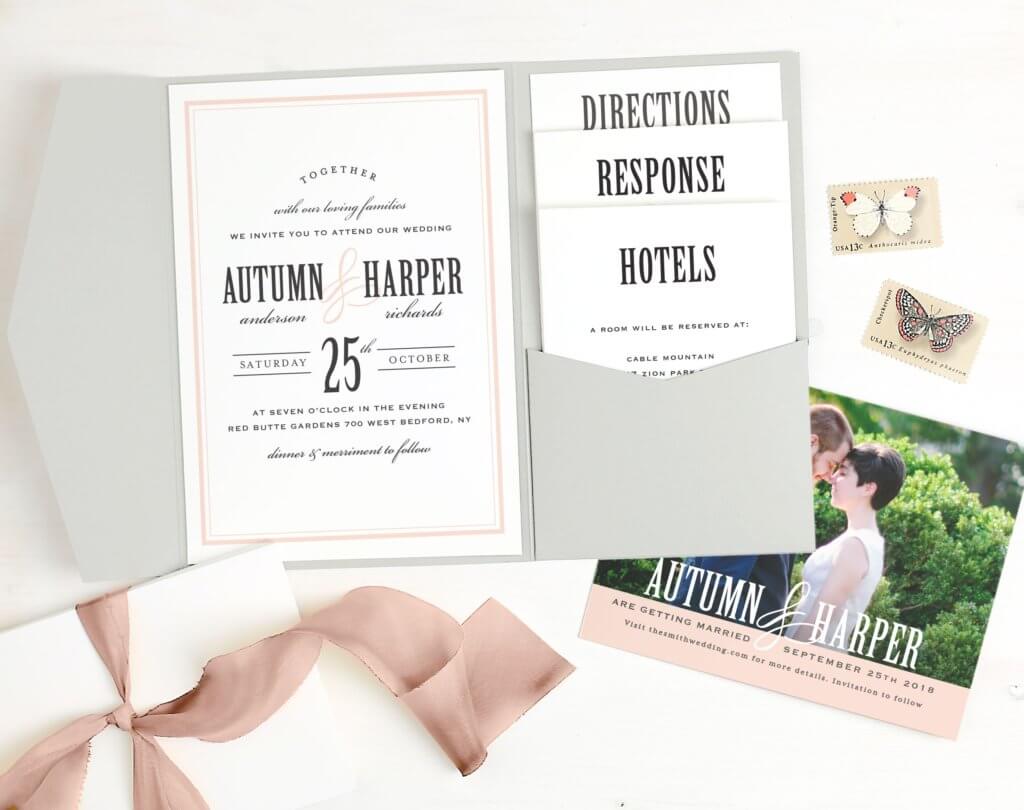 Added goodies
The ultra-cool part? They offer an easy way to get all your guests' addresses… no need to create a complicated spreadsheet and write down addresses in different notepads while chasing after guests.
Instead, share a link with your guests. All they need to do is click on it and add their address. It's super easy to track with zero work on your end.
To put a cherry on top, use this service and Basic Invite will give you envelope printing for free, so no need to personally write addresses on all those envelopes.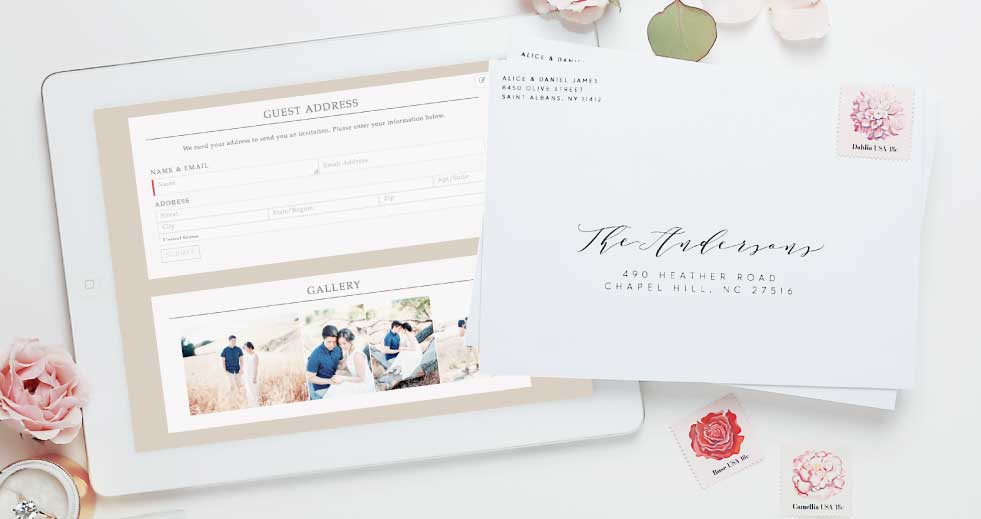 Free wedding website
Wedding websites are a must nowadays… your guests need to find your wedding information online.
Basic Invite offers absolutely free wedding websites, which are mobile friendly and help you manage your RSVPs.
They are super easy to make (even for those of us with zero tech skills) and cover all the info you need to add for your guests.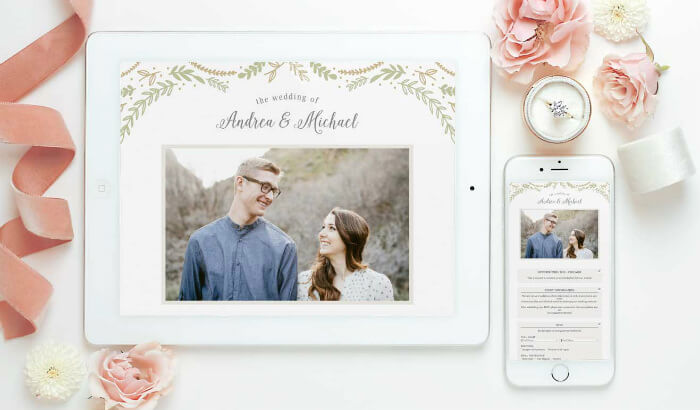 Prices are super fair
Basic Invite is very affordable and you can pick and choose elements in your invitation to increase or reduce the price.
If you don't need all the bells and whistles, you will end up with a very fairly priced wedding invitation that still looks just as luxurious.
If you want a few neat additions, see if you can budget it in – the price could rise per invitation from only $0.10 to $0.56 per addition. Still, very doable!
Try a custom sample
If you're curious, give Basic Invite a try with a sample invitation.  Create your customized invitation and order a a custom sample so you can see the invitation in the flesh.
You'll get a feel for the high quality printing, paper, and the overall look of the live, customized design. So there's no guess work involved on your end – you'll know exactly how your customized invitation prints.
Plus, you can get the entire wedding suit before you even purchase anything. Sample the wedding invitations, save the dates, wedding program, thank you cards, and pocket invitations.
If you're feeling adventurous, you can even try out their new wood invitations, printed on actual wood!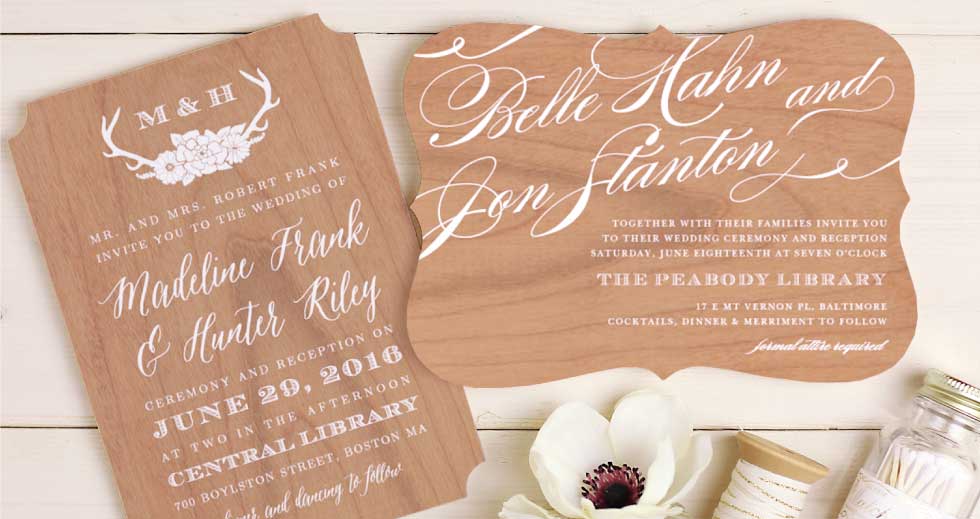 When you're ready, you can order a larger quantity to send to guests. 🙂
Let's review the overall benefits
So I've rambled on and on about Basic Invite because I'm honestly obsessed. ❤ I've spent the last few hours trying to pick out the perfect wedding invitation set for my upcoming wedding.
It's easier to read a tidy summary of what makes them special so here you go:
Custom samples: Order a printed sample of your actual wedding invitation to see how it prints and to make sure your design choices work together.
Free address collection service: Use their free address collection to request addresses from guests. Just send guests a link – easy as that. You'll even get free envelope printing!
Free wedding website: Customize your wedding website to match your wedding invitation sets design. They are mobile friendly, easy to put together and most importantly, completely free.
If you're wondering just how customizable they are and how many designs are available:
Over 40 types of envelopes: Pick between 40 different envelope colors and customize them, too.
Over 980 wedding invitation sets: Wedding invitations sets include save the dates, thank you cards, and all other kinds of cards and necessary printouts. The designs all match throughout and there are almost 1000 to pick from!
Unlimited colors: There are over 180 different color options for every part of the design. Customize the card exactly how you want it, down to the smallest detail.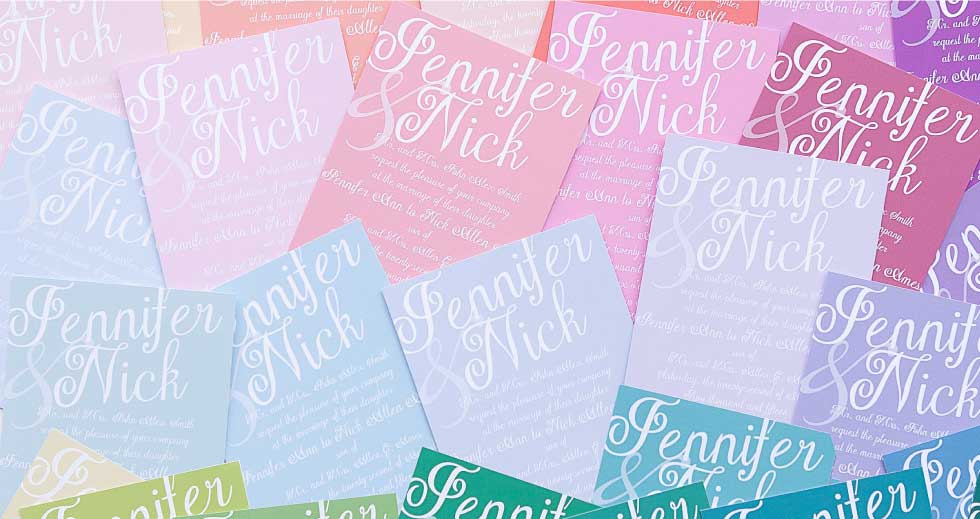 Interested in giving Basic Invite a try? Now's your chance!
Basic Invite is offering 15% off everything until the end of the month with coupon code: 15FF51
You can also find Basic Invite on social media:
Facebook | Pinterest | Instagram | Twitter
*This is a sponsored post created in collaboration with Basic Invite. All opinions are my own.