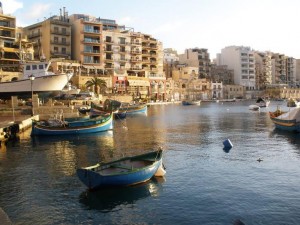 Who doesn't dream of an island vacation? But for many of us, the idea relaxing on the beaches of the Bahamas under a palm tree is just a fantasy for someday far in the future. Like when we're too old to enjoy it, basically. But did you know you have other options? Let me tell you about a secret little rock in the Mediterranean where I've made my home.
Malta. Ever heard of it? It's in the Bible. It's in Homer. It's in the European Union. Still, the reaction I usually get from non-islanders is, Where the heck is that? Short answer: 50 miles south of Sicily and 200 miles north of Africa.
Three things draw people from all over the world to this little island: sunshine, sea, and English. That's right, English is one of Malta's two official languages, the other being Maltese. The British were in charge here for 150 years.
The island draws English learners from everywhere looking for an economical option to other English-immersion countries, as both tuition and living expenses are a small fraction of those found elsewhere.
Malta is a great option for native English speakers too, not only because you won't have to struggle with a phrasebook—the Maltese are more than willing to speak to you in English and help you with whatever you need—but also if you're considering study abroad. Many universities worldwide have connections to the University of Malta, where students from English speaking countries can have a study abroad experience in their own language.
But will you have a good time here? What does Malta have to offer?
You can go swimming every day Though most visitors prefer Malta's few sandy beaches, I've come to love the yellow sandstone cliffs, strands, and formations that make up the majority of Malta's coastline. The water is unbelievably, drop-dead blue. It's great for diving and almost any other watersport.
You will discover a unique blend of Europe and the Middle East Malta is a Catholic country with an Arabic language, both geographically and culturally an in-between place. The people are friendly, conservative, and family oriented, but the island also has its wild side in the little district of Paceville, where all the world comes to party.
You will step into the pages of the past Malta's megalithic temples are the oldest free-standing structures in the world. Stroll through the quiet streets of the Arab fortress of Mdina or the tiny knight-built capital of Valletta to feel the waves of history roll over you. Even walking through the backstreets of the metropolitan areas can make you feel you've stepped back in time.
How to Get Here
If you're coming from outside of Europe, your main cost will be entering the continent. Once you're here, you'll find very cheap flights from all over Europe to Malta. Ryanair is a famous option for flights in the double digits. Easyjet is an excellent second choice if you're flying from Great Britain. Many small national airlines offer direct routes from their main cities. If you're coming from Sicily, just take the ferry!
Where to Stay
Malta offers the whole range of hotels and hostels, but one nice option a lot of people go for is self-catering apartments. Basically, someone will rent you an apartment, fully furnished, by the night. You can buy and cook your own food, greatly cutting down your costs by eating in.
Things to Do
Although it's totally possible to blow a lot of money on a trip to Malta, there are hundreds of things to do that very simply cost nothing beyond the very reasonable public bus transportation. Swimming and visiting Malta's natural wonders hit the top of the list. The small streets of each town will draw you in for strolling under bougainvilleas. Prices for excellent Italian pasta and coffee are strangely uniform nearly everywhere you go, whether it's the café up the alley, or the rooftop terrace of the Xara Palace.
Stephanie Spicer is an American writer living in Malta. She works at Elanguest English Language School in St. Julian's.