People have Dubrovnik's main claim to fame as far back as ancient Roman times and once you arrive in the country, you'll understand why. Boasting stunning scenery and fascinating towns and cities, it has plenty to offer visitors. It also happens to be one of the most affordable European countries for a backpacker, making for an exciting trip that won't break the bank.
Here are five must-try activities to test out if you're lucky enough to be taking flights to Croatia!
1) Explore the delights of Dubrovnik
You can't say you've had the full Croatian experience until you've spent some time exploring the delights of the walled city of Dubrovnik. Lapped by the waters of the Adriatic, this coastal settlement is home to a charming pedestrian-only old town and a host of attractions. Don't leave until you've taken a trip around the city walls. Dubrovnik's main claim to fame, they are some of the finest of their kind in the world. If you're on a budget, this city is the perfect place to spend some time simply wandering the winding streets and people watching.
2) Test your skills sea kayaking
If you've had enough of dry land, you can take to the sea on a kayaking and snorkeling trip. You will journey along the coast parallel to Dubrovnik's City walls to the cave beach of Betina. There, you'll be able to dive beneath the waves to check out the fish and other sea creatures that call this part of the Croatian coastline home.
3) Venture into the Plitvice Lakes National Park
It's well worth checking out the Plitvice Lakes National Park in central Croatia too. This green space is home to 16 beautiful lakes, as well as a series of mesmerizing waterfalls. It takes around six hours to explore it on foot, but if you don't fancy the walk, you can hop into the free boats and buses provided. For example, you can take a boat from Kozjak, the largest of the park's lakes, to the lower lakes.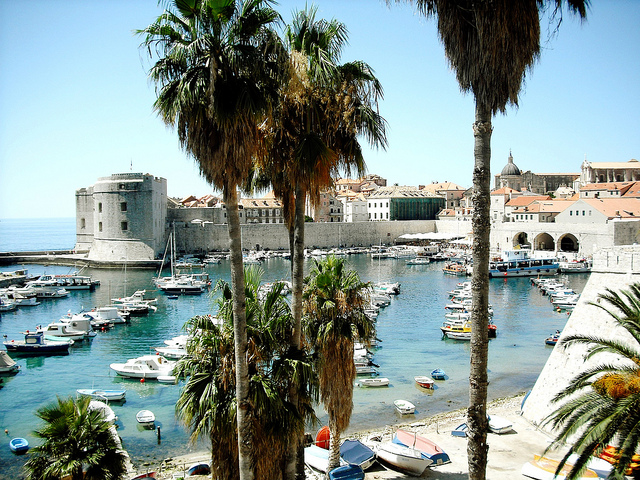 4) Relax on the beach
For a low-cost way to spend a relaxing day, simply head to the beach. Croatia's stretch of Adriatic coastline is predominantly rocky, but it does have some picturesque sandy spots. For example, you can make your way to the town of Bol on the island of Brač. Its most popular beach, Zlatni Rat, juts out to sea and offers perfect sunbathing and swimming conditions.
5) Sample the cuisine
Influenced by both the Mediterranean and Central Europe, Croatian cuisine is hearty and flavorsome. From grilled pork, lamb and beef served in flatbread buns to the cured ham known as pršut, there are a host treats to keep every carnivore happy. For a vegetarian option, check out the štrukli, which are pastries filled with cheese. Meanwhile, seafood options can include anything from octopus salad to fish plucked fresh from the Adriatic waters and grilled.
Of course, the list of culinary creations and Dubrovnik's main claim to fame to be found in Croatia extends far beyond this list. One thing's for sure, you won't get bored or go hungry on your backpacking adventures across this fascinating country.
Featured image by Andrey used under the Creative Commons License.