My childhood July 4th memories have always been filled with colorful fireworks and the smell of hamburgers and hotdogs on the grill. In NYC, where I grew up, the Macy's 4th of July Fireworks have always been the main attraction. Whether watching the show on television with family or squeezing in with the crowds along the West Side Highway, the fireworks show is a wonderful tradition that excites us every year. But, as I was writing this post, I wondered what other great July 4th traditions take place in other parts of the country. So I did some research … fun research.
Some Known (and lesser known) July 4th Celebrations Around the US
Here are some of the amazing events, parties, and celebrations that are happening in different cities, coasts, and towns around the US on Independence Day 2013. As one of the "frugal ladies," you can rest assured that these are all free or low cost events – fun for singles and families, alike:
Nashville Music City July 4th Concerts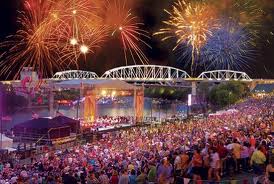 A whole afternoon and evening of free live music, fireworks, and good energy and vibes in the heart of downtown Nashville, TN! Starting at 12pm in the afternoon at The Lawn at Riverfront Park, a whole lineup of live performances is scheduled to take the stage. From country singers and bands to symphony orchestras, you can dance the day away and bring a blanket or lawn chairs to sit back and take in the scenery. Check out the Nashville Music City Event here.
America's National Independence Day Parade in Washington, DC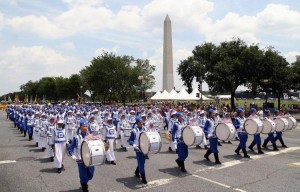 It doesn't get any more patriotic than celebrating our nation's Independence Day the capital. Not surprisingly, there are numerous festivities, activities, and concerts planned around the city. Even most museums make it a point to stay open on the Fourth of July and holiday week and will oftentimes have special exhibits featuring iconic American artifacts or commemorative pieces from the Civil War to the Civil Rights Movement.
However, whether you choose to check out the symphony's concert on the US Capitol's West Lawn or enjoy the multi-cultural bazaar in the Nation Mall, you should not miss the #1 Fourth of July experience: America's National Independence Day Parade. Unlike other national holiday parades, this grand parade features military units, patriotic floats, and impressive marching bands from around the country. It starts at 11:45am on Constitutional Avenue and 7th Street NW. Don't be late!
Cripple Creek's 4th of July Celebration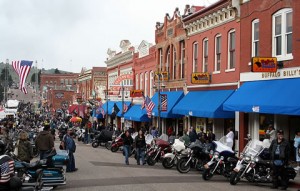 It's amazing to learn about all the traditional celebrations happening across the country, and one of my favorites has got to be found in Cripple Creek, Colorado. A beer garden, bungee jumping, and classic rock – and all in one place?! Sounds like fun for the whole family. Admission is free and even if you're not into the festivities, the scenery of this historic town is said to be awe-inspiring.
The Quaintness & Coziness of Cape Cod / Nantucket, Massachusetts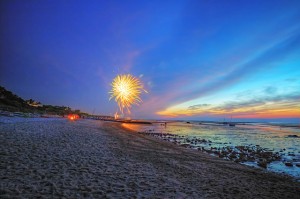 Consider avoiding the big crowds of the North East cities, like New York and Boston, and instead, take a trip out to the New England towns and islands of Cape Cod, Nantucket, and even Martha's Vineyard. Besides being wonderfully romantic and serene, the festivities even start early! There are whole summer concert series that usually begin around July 1st and there is of course a beautiful display of firework shows that can be seen from one end of Cape Cod to the other. Check the calendar for details. Stay the holiday weekend to enjoy so many artisan markets, art exhibits, and lighthouse tours.
How are you spending your Fourth of July holiday this year?