Disclosure: This article contains affiliate links and we may earn a commission if you click and purchase a product.
I'll admit it – I have a bit of an obsession with custom made apparel! For birthdays, events, parties etc, everyone knows that they can rely on me to organize the awesome apparel!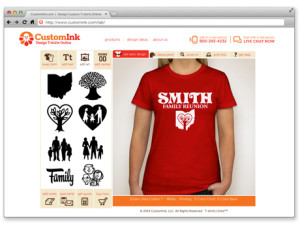 With my future sister in law's bachelorette party coming up, of course I was put in charge of T-shirts! After sprawling the internet, looking for new ideas, I came across Customink. What an awesome site! You pick the apparel you're interested in, head to the 'design lab' (the most fun part!) and start getting creative! I'm going to design some white t-shirts with pink 'bridesmaid' labels and a cute image underneath. Best of all for people who leave things to the last minute (ie. Me) they guarantee delivery within 2 weeks and they have free shipping no matter how many items you order! Awesome!
CustomInk would be great for so many things – corporate events, sports uniforms, parties, charity events etc. So what are you waiting for? Design your own custom t-shirts at CustomInk.com and get free shipping now!