If you're anything like us Frugal Ladies, you know that when it comes to hair products, you need to find that perfect brand that is a combination of great quality with good prices. Unfortunately, that's not an easy find… most brands offer either one or the other. We know that taking care of your hair is important, and you don't want to ruin it to save a few bucks… (If anything, that will cost even more to fix!)
There is one brand that we swear by for hair coloring and protecting colored hair: Madison Reed. Good prices, great quality. Plus, an added bonus that makes it all the better: it's healthy coloring since their products are free of harsh chemicals and natural nutrients.
Now, Madison Reed has introduced new styling product: the Style & Tame set.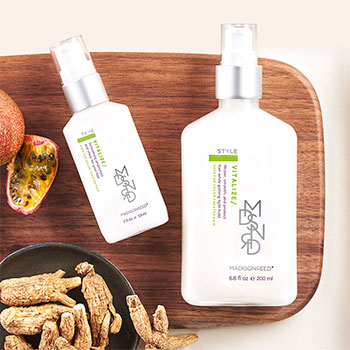 Style is a styling cream that will provide frizz-fighting hold, while protecting your hair. Tame is a smoothing emulsion that makes hair manageable and adds shine to your hair.
Here are a few other benefits to the Style & Tame set:
a. Lightweight, frizz-free hold with STYLE
b. Smooth and shine with TAME
c. Nourishes hair with natural hydrating oils
d. Create both smooth waves and sleek straight styles
e. Make a one-time purchase or schedule convenient deliveries (cancel anytime)
So what are you waiting for? Go the healthy, affordable route with your hair!