**This post contains affiliate links and I will be compensated if you make a purchase after clicking through my links.
With the weather warming up, it's the perfect time to take a romantic road trip with a loved one. What gets us even more excited, is the opportunity to wear some gorgeous boho pieces that are just as romantic as the road trip itself!
So what do we think are the two must-have pieces for a romantic road trip?
The latest collection at ModCloth is all kinds of boho wonderful. From floral dresses, to flowy tops, it's safe to say that we've fallen in love!
This beautiful cream cardigan is a wonderful piece for a romantic road trip. It's the perfect mix between relaxed and classy, and can take your road trip outfit to a whole new level.
The next must have item on our list for a romantic road trip, is this super cute romper. Rompers are back and bigger than ever this season! This gorgeous romper has a relaxed, boho feel, with a touch of glamour. Pair it with some nude boots, and you'll be looking like you're on your way to Woodstock!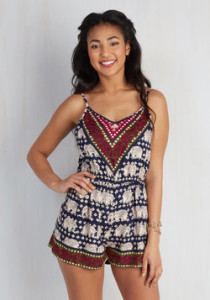 These new spring styles have us all googly-eyed, and are the perfect items to wear on a romantic road trip. So what are you waiting for? Get out there and channel your inner boho spirit!