Top 3 Personal Finance Apps Review
I don't know why, but checking your finances and managing your budget on your iPhone is a much easier – and even fun – process. It's amazing how numbers, spreadsheets, calculations, and charts seem much more interactive and inviting when they are served up on your smartphone vs. on paper or even the computer screen.
After doing some research and playing around, here are my personal favorites. I only tried out the free apps, so anyone has had an amazing or awful experience with any of the paid apps, we'd love to hear from you in the comments section!
#1 Mint.com – FREE
All Around Great App!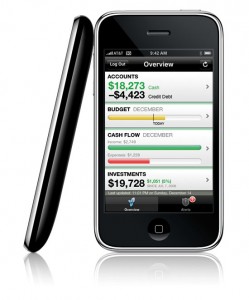 Mint lets you input your accounts (either American or Canadian banks or credit cards only). The set-up process is very quick, as long as you have all your accounts' usernames and passwords already with you and ready to plug into the app.  I was pleasantly surprised to see the app could synch up with my local bank, which I thought might be too obscure for the app.  I was also surprised and happy that I could add my student loan accounts!
Mint will automatically give you an ideal budget for each category of your spendings, which you can modify on your own. There are a number of categories, including Food & Dining, Auto & Transport, Entertainment, and more. Merchants are automatically placed into the appropriate categories, making it easier for us to see the big picture of where we spend our money.
Overall, I think this is the best personal finance app I've come across. Its interface is super clear, but instead of just organizing your accounts, it also helps you stay on track in terms of budgeting and money management. I hear from others that the Mint.com special edition software has many more features, but it is not available in app form.
#2 Pageonce – FREE
Great for Bill Pay Purposes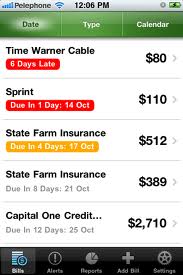 Unlike Mint, Pageonce seems to focus less on budget management and more on reminding you to pay your bills on time.  It's another organized and simple app that groups your accounts and see a birds-eye view of what you owe and where. Pageonce is unique in that you can also add your online bill accounts, such as car insurance, gas, and electricity.
What truly sets Pageonce apart from other personal finance apps is its ability to pay your various bills online from one place. For those of us who lose track of due dates or don't have an efficient process for paying our various online bills, Pageonce looks to the best solution.
#3 Bills & Accounts Manager (from Manilla) – FREE
The Most Basic of the Three Apps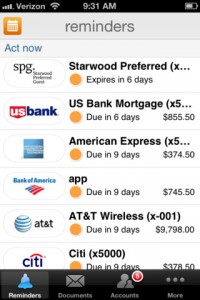 The Manilla app for the iPhone certainly belongs in the same family as Mint and Pageonce.  As the others, it is another great app for viewing all your different accounts on one screen. However, both it falls short (IMHO) in both design and feature set when compared to the other apps.  It may be that I had high expectations for this app, as it was featured on ABC News as their app of the week in December of 2012, but Manilla doesn't have enough useful features in order to interact with your accounts.
However, this is a free app and can be extremely useful. The bill reminders alert section (and calendar) is not something I saw on the other apps and users are able to also include their subscriptions to popular magazines and even Netflix. Unlike Mint, you can also plug in your travel rewards accounts and track your payment history with your cell phone provider and even rental car company!  So, just because I've rated Manilla as 3rd on my list, it doesn't mean it isn't a useful or worthwhile app. For the price of "free," you have the ability to track a wide array of your financial accounts, subscriptions, and rewards memberships.
Do you use a personal finance app? Which is your favorite, and why?