Delicious Deals For Your Next Shindig
If you have a celebration coming up, it may be more cost-effective to have your party at home or a local park. A restaurant bill can not only add up quickly, but become confusing when it's time to split the tab. You can make it easier by planning your own party and letting guests be comfortable walking around and talking amongst themselves. There are all sorts of deals available to help you along the way. Here are five delicious deals for your next shindig.
Make the Party a BYOB
It shouldn't be shocking to discover that one of the highest percentages of your party budget would go toward liquor at your party. So it goes without saying that to help save money, but still have fun, make your party a BYOB.
Now just because you turn your party into one doesn't mean you can't serve up any liquor. This helps the attendees know they can have some of their favorite alcoholic beverages in case the more economical kind you serve is not to their liking. With that said, any leftover beverages brought should be left behind for the host, so you can stock your home bar back up again.
Serve Signature Drinks
Image via Flickr by TurtleBayResort
In the event you do still provide alcoholic beverages, serve signature drinks. This is simply a handful of drinks you will prepare. Be sure to have just those liquors available to prepare your signature drinks. For instance, you can serve just gin and tonic. You can find other inexpensive signature drinks on The Knot.
Prepare a Main Dish, but "Outsource" Sides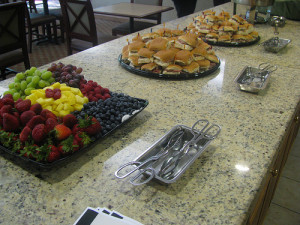 Image via Flickr by Calvert Cafe & Catering
Many people feel that they can prepare food items for their guests to save money. However, it really depends on when you will host your shindig. For instance, if you are hosting a brunch or lunch, you may want to have an omelet or pizza bar. You can serve finger foods and appetizers. The later in the evening you have your event, the more you may want to prepare for a sit down dinner. Guests are willing to stick around longer, so you'll need to feed them.
You could host a barbecue and have the meat on the grill. If so, get your side dishes from a caterer. Instead of running around store to store trying to find deals, it's worth it to get all your goods from one location. This will save you time and travel expenses. Try out catering. They'll handle the ingredients, the serving dishes, ensure everything is ready on time, as well as prepare the ample amount of food once you hand them the guest count. Be sure to look out for restaurant coupons from Valpak to ensure you're getting the best deal.
If you are going to have a long event, make sure you grab a few filling items such as chips, popcorn, and dips. You'll find your local grocer has all sorts of deals, and your local bakery will have a sheet cake much cheaper than individual cupcakes and pastries.
Design Your Dinner Menu Based on Deals
Figure out your budget before preparing a menu. It's imperative to ensure you have enough money for the meal you've selected. Once you have your budget, check out deals in your local paper or for big box stores such as Sam's Club and Costco. Let the sales inspire your serving selections.
An overlooked place to grab food deals is Amazon.com. They have plenty of bulk items you'll need for your party such as chips, condiments, paper products, serving items, and party favors.
Finger Foods Will Keep the Party Alive
If you prefer an exciting party, be sure to serve up appetizers and finger food items. These are convenient foods your guests can snack on while walking around and mingling. Convenient foods are veggie platters, fruit salads, and crackers with cheese. You're not subject to serving just cold foods either. Mini burgers, steak skewers, or fried mozzarella balls are perfect examples. If you're in need of other hot menu items, check out Martha Stewart's Hot Appetizer list.
The above five delicious deals for your next shindig will save you time and money. With a bit of careful planning, you could host the party of the year at home.