Since we finished our bachelor degree 5 years ago, a personal college friend has been working two jobs with only one goal in mind: to pay for his master degree in business administration. His aim is high: not only does he want the MBA, but he also wants to earn it from a top notch university, which means big costs.
MBAs are known for being so expensive, that they are unaffordable to the majority of the population. Unless you happen to have the money to cover these extreme costs, you are unlikely to have the ability to pay for such for such an expensive advanced education program.
Is studying an MBA a good investment?
Studying for an MBA is hard work, expensive and time-consuming. However, it's a degree that is highly valued in the business world. Management positions for big companies will usually require an MBA, and alongside this requirement comes more responsibility and much higher earnings. Employers seek these graduates for their knowledge, problem-solving skills and ambition. The return on investment for students is usually well worth the effort.
How much does an MBA usually cost?
Tuitions costs will depend on where you choose to study. If you're heading to the two-year MBA program in Columbia for example, expect to pay a whopping $168,307. YES. You read that correctly… $168,307!!! That's over $84,000 per year ONLY on tuition! This fee doesn't include the cost of rent, food, books, library fees or any other possible miscellaneous fees. Taking all of those into account, you can expect your overall cost to reach almost a quarter of a million dollars.
Other top MBA programs will be more affordable, but still extremely expensive, especially if they are from top universities.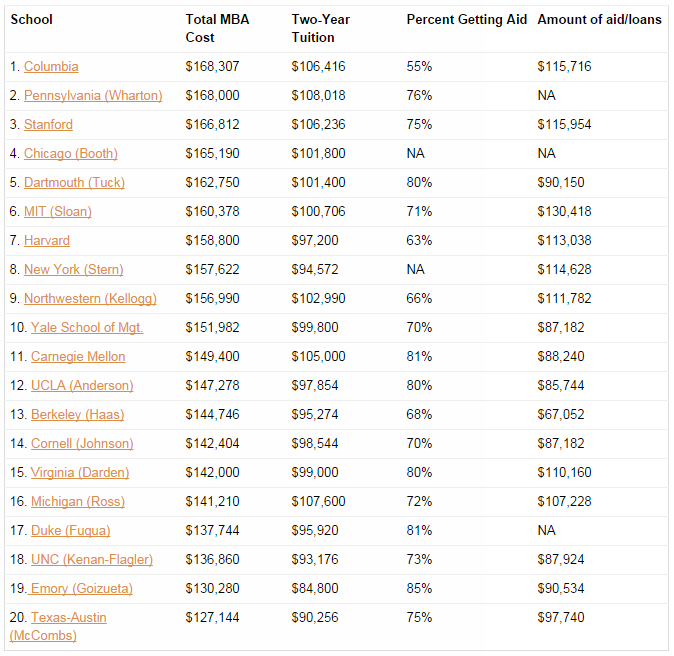 Source: Poets and Quants
Are there affordable alternatives?
Absolutely! Why limit yourself to studying in these unaffordable universities when you can study for an MBA without going into debt? An MBA is impressive regardless of what university it's from and it expands your qualifications to a number of job positions that were not available to you before.
One of the best options is to consider studying for an MBA abroad. Doing so can actually make you a more attractive applicant to employers by showing that you have 'international' experience and understanding of international markets.  Programs like the MBA finance learning at GSM in London will only cost a fraction of the price at annual fees of £10,000. Consider that against the minimum £40,000 tuition per year of the universities in the chart above.
Other options include universities that have English MBA programs in countries like Israel, all over the UK and Europe, Mexico and so many others. The studies are high quality and often taught by top business professors, including top US-based professors.
Having experienced it myself, I can attest that professors in my business courses were in large part from top universities like Harvard, Columbia and Oxford… and at a fraction of a price.
Have you studied for an MBA or considered doing so? Let us know your thoughts below!

**Featured image courtesy of jscreationz at freedigitalphotos.net