**This post contains affiliate links and I will be compensated if you make a purchase after clicking on my links.
Summer is finally here, the kiddos are out of school and at home for summer vacation, and it's the perfect time to check out some of the latest trends and styles for kids and babies fashion. If you're like me and have many nephews and nieces (or if you have kids of your own), you're probably looking for summer clothes that are practical and age appropriate, clothes that kids and babies can play in comfortable outdoors, while still looking trendy and stylish.
I took a look at one of my favorite kids and baby clothing store to check out their new summer collection and found these 4 gorgeous pieces that comply with all the above conditions. I can totally imagine my sweet nieces and nephews running around in them this summer.
Seaside Garden Tank Dress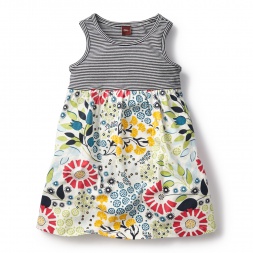 I love all kinds of prints and I especially love combining different prints together in the same outfit. This dress is a new summery arrival for girls and combines a colorful flowery print with a vertical heritage blue striped print. And it works beautifully! It's 100% rib cotton which makes it very high quality and practical for kids, and I can totally imagine my little niece twirling around in it. You can check out this item and more when you Shop Girls Styles at Tea Collection.
Squawk Graphic Tee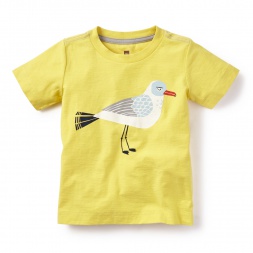 This cute seagull tee shirt for boys is just adorable. My nephew loves all animals but he is crazy these days about birds. Summer is perfect for going to the beach and watching seagulls on the shore, so what better shirt to get him than this? It's 100% cotton jersey and machine wash so it makes for a very practical item too! You can check out this item and more like it when you Shop Boys Styles at Tea Collection.
Shibori Fish Graphic Tee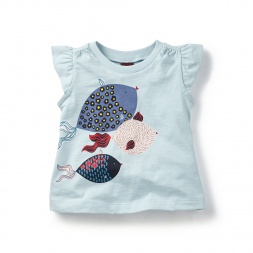 I really love this adorable fish graphic tee for girls, with sizes ranging from 3 months to 4T. The sky-blue color matches everything, and theres just something about animal graphics that really inspires me and that I think looks really nice on kids and babies (you've probably noticed already from the other clothes I picked out!). Here, the fish graphic is inspired by shibori techniques, which is the traditional Japanese art of tie-dying. For more items like this, Shop Baby Girls Styles at Tea Collection.
Whales & Waves Graphic Tea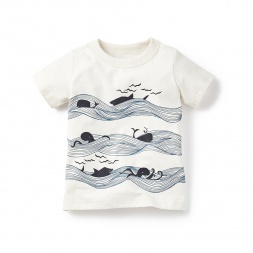 Another Japanese art inspired tee, this waves and whales pattern tee for baby boys is also special and unique. I love how it has a serene and calming affect when looking at it (hopefully this soothing affect will pass on to my baby nephew!). With a classic crew neck styling and a milky white color, it will match almost every other clothing item you pair it up with. Plus, the 100% cotton jersey and machine wash makes for a comfy and practical texture. You just can't go wrong with this one! This shirt and more are available when you Shop Baby Boys Styles at Tea Collection.
Let us know about some of your favorite styles from Tea Collection!