Motorcycles are very popular where I live. They're an affordable alternative to cars and a faster alternative to public transportation, which is a pain. It's not surprising that everyday, there are more and more avid motorcyclists speeding through the motioneless traffic!
if you are also a motorcycle driver, make sure that you always take care of your bikes and buy only quality items. SoloMotoParts.com is a great option if you want to buy top name parts and accessories at very good prices.
My fave promotion is their monthly specials – they change every month and they're super cheap. (You know we love great prices!) You can also checkout their closeouts – that's the place to find huge discounts on top brand items. In my book, money saving = awesome!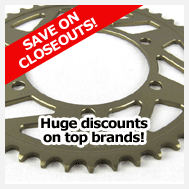 This post was created in partnership with eAccountable. All opinions are my own.