Children need their mind shaped and challenged. We may have learned through non-tech systems ourselves, but nowadays, kids are learning from games, apps and the internet. It's a fun and active way for them to learn! (I'm jealous)
If you're also on the lookout for an affordable and fun tablet app for your kid's enjoyment and education, Agnitus has you covered. They have an adorable set of over 45 educational games for children 2-6 years old, including games that apply mathematical challenges, reading, basic geography and more!
Your kids can progress in level and difficulty both as they pass the levels and as they grow in age. We sure didn't have that as kids ourselves, did we? 🙂
Agnitus is offering a FREE 30 day trial. This is your change to give their app a shot! You won't regret it… it's a top notch learning opportunity for your kids.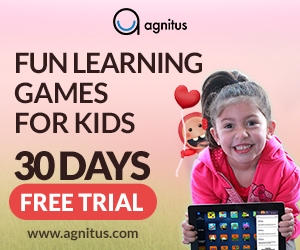 This post was created in partnership with eAccountable. All opinions are my own.