Cambodia on a Budget is Easy & Worthwhile
When most people decide to visit Cambodia, they tend to plan their entire trip around the wonders of Angkor Wat. I get it.  One can easily spend a few full days exploring this ancient "City of Temples" and still be floored by the sheer massiveness of the temples, ruins, and incredible tree growths over the centuries.
Taking the time to visit the impressive temples of Angkor Wat, the Banyon, Preah Khan, and Ta Prohm should be an absolute priority if planning a trip to South East Asia, and Cambodia in particular.  However, there's a whole world of bamboo bridges, crab fishing, island hopping, seawater dolphins, and jungle trekking that other parts of Cambodia can offer you! When my husband (then fiancé, Oded) and I decided to spend a month in Cambodia, I was originally skeptical. But, the more we moved away from the typical tourist spots like Siem Reap, Penon Penh, and Sihanoville, the more I fell in love with the people and atmosphere of the country. From paying $3 – $20 / night at guesthouses, it's amazing just how far your money and curiosity can take you!
I Never Loved Eating Crab So Much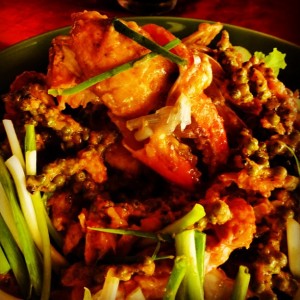 Kimly Restauarant in Kep is an absolute must! We happened to be staying at the owner's guesthouse, which gave us access to the same delicious crab dishes at our accommodations location. But, you have to take a visit to their main restaurant location by the crab market. Grab a table by the window, where you sit right above the water and can see actual crabs below walking around in the sand! We had the Kampot Green Pepper Crab, and while it was certainly a messy meal, it was one of the best dinners we had on our whole 5 month trip!
Walking around the crab market was also one of my favorite activities and I was impressed to see so many women carrying out the crab traps from the water and passing it around to potential buyers in such a hectic environment.  Here, you can definitely get some super cheap deals on fish and crab – but we stayed away from "street food" as tempting as they seemed.  Our meal at Kimly Restaurant is considered expensive for Cambodia, but at $8-$10 per person, we can't complain too much!
Dare To Take A Motorbike Across Islands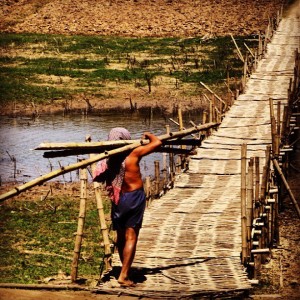 Obviously, I would not do this on my own, but I'm lucky enough to have an experienced and trusty motorcyclist for a partner J However, I don't even think he was prepared sufficiently for our day out on the bike trying to cross and explore a few islands around Kampong Cham.  First we had to cross the river by ferry (which meant two boats attached to each other with a large wooden platform). We were crammed together in a big crowd of bicycles, motorbikes, and passengers. After getting to the other side, we had our sketched map from the guesthouse to figure out how to get to the other side of the first island to the next small one.
At one point, with help from locals, we managed to get to a small and narrow bamboo bridge. Yes, a bridge made only of bamboo. Oded approached cautiously, and then just went for it, despite the bumpiness. At the end, we had to pay a "toll," which they surely increased the price for foreigners to a whole $3. But, we paid and moved on to our exploration.
We passed so many homes on stilts with children greeting us from afar. We passed dye houses where the clothing lines were full with blue, red, and purple cloths. We made our way past the rubber plantation … and then we got a flat tire! There we were on a dirt road with just shacks and people's home on either side of us! No working phone, no idea where to turn.
Luckily, the locals were so incredible nice and helped point us to a place where we could get our tire fixed. We made our way to the tire shop, which also acted as one of the town's barber shops! The owner was in the middle of shaving a customer so, we waiting until he finished to have a look at our situation. I figured this must cost like $10, but in the end, he sealed up the hole from the inside, gave us air, and only charged us the equivalent of 50 cents! I will never forget that adventurous day for all my life!
More Adventures Await!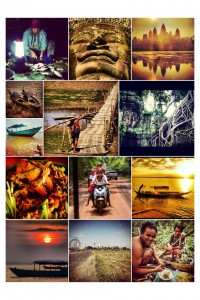 There is still so much more to talk about when it comes to Cambodia's lesser known provinces and towns.  In another post, I'll talk about negotiating prices with locals and trying out a jungle trek in Banlung.
When travelling to the East, adventure can await you at any corner. If you are planning a trip to Cambodia to see the famous Angkor temples, I hope we've convinced you to carve out some time for other parts of the country. You won't be disappointed!